The following is copied from the Latino American Today website – Community section
Latino Community Priorities Polling Results
  Keith Downey, Chair, Republican Party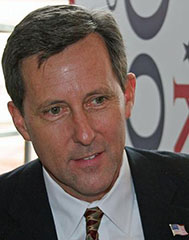 of Minnesota
By Keith Downey
The recent immigration debate has centered on   President  Obama's  executive order. The need for immigration reform is real, and Republicans believe it is very important to get it right through legislation, passed by Congress and signed by the President so it will last.
However, as the immigration debate moves forward, Latino leaders have recently questioned whether there is an over-emphasis on immigration as the defining Latino issue. Cristina Beltrán, associate professor at New York University, said, "Immigration should be one step in understanding the Latino community… Instead it has become the end-all."
Recent polling confirms her assessment.  The issues that consistently rank as the top three priorities for Hispanic voters are education, jobs, and health insurance.
EDUCATION
Let's face it, public schools in Minnesota's urban areas are failing minority students. No statistics can tell the story better than the parent whose child receives a sub-par education and is stuck in a dead-end, failing school. Republicans believe all children deserve better than that—and that includes Latino children.
JOBS
The American Dream was built on the belief that everyone has the opportunity for success if they work hard. Republicans are committed to making the American dream of good jobs and maximum opportunity available to everyone, regardless of whether one's family has lived here for 100 years or 1 year.
HEALTH CARE
Last year, one in eight Minnesota Latinos did not have health insurance. This year, MNsure isn't even enrolling enough people to make the program financially viable. We can do better. Republicans are working for high quality health care at an affordable price. It is possible, and we can do it.
Republicans are advocating for policies that benefit all Latinos – on education, jobs, health care, and immigration. We cannot lose sight of the main issues and solutions that will propel the Latino community, now the largest minority group in the United States, to well-earned success.
We invite you to join the cause. With your help and your input we will make Minnesota a better place for everyone!